2 Days tour of Hakka House Itinerary
Day 01 Xiamen-Yongding
Departure from Xiamen at 09:00, drive 3 hours to Yongding, en route visit Nanjing Tianluokeng Hakka House and Yuchang House. Upon arrival in Yongding, you¡¯ll be transferred to visit Chengqi House before check-in hotel.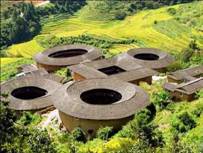 Tianluokeng Hakka House, located in Shangban Village, Shuyang Town. The castle, composed primarily of four round and one rectangular earthen house, is one of the most magnificent and well-preserved Hakka Castles in the area. The village is also listed in the Famous Historic Cultural Village in China for its typical cultural regional system. westward into the Gansu province. To put this in perspective, it would stretch from Los Angeles to Boston or, from London to beyond the Urals mountain chain which separates Europe from Asia.
Yuchang Hakka House is located in Xiaban Village; Yuchang Lou was built in 1308 and is one of the oldest existing Tulou. This five-story earth building is most famous for its tilted pillars. The most extreme is slanted at15-degree angle. Yuchanglou has been like this for more than 600 years and remains intact today.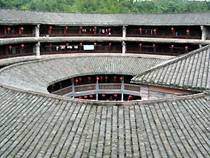 Chengqi Hakka House is the largest of the earth buildings. It is almost three hundred years old and is made up of four concentric circular buildings. This King of Round Earth Building has altogether 400 rooms and used to house 80 families, totaling more than 600 people in its prosperous days. The most significant feature of this huge collective dwelling is that all residents are equal in their share of living spaces. No traces of the feudal patriarchal distinctions between senior members of the family and the younger generations predominant in the¡±Five Phoenix" (Fuyulou) type of dwellings can be found here. Such a mode of tribal habitation is a rare phenomenon in the feudal days".

Day 02 Yongding ¨C Xiamen
This morning you¡¯ll visit Chuxi Hakka House Then driven 3hours back to Xiamen,


Chuxi Hakak House is 15 km away from Xiayang Town; it includes five large circular buildings and dozens of rectangular buildings. All building names share the common word "Qing", meaning "celebration" (such as Jiqinglu and Shengqinglu), which reflects the hospitable nature of the Hakka people.